You may be interested in ECUHELP KT200 Kit ( ECUHELP KT200 offline workstation and HTprog Clone Adapter. ) 
Look at the images below: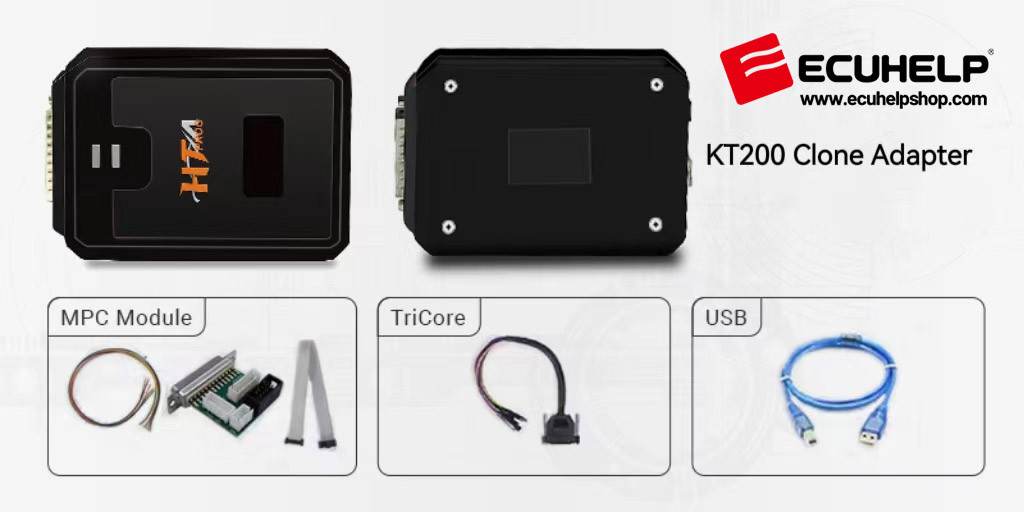 KT200 offline workstation and HTprog Advantages: 
Clone more ECU types and some TCU.
This advanced functionality means that you can clone ECU more efficiently, work with a wider range of vehicles, and take on more challenging projects.
This bundle is an excellent investment for any professional mechanic or car enthusiast looking to expand their capabilities and increase their productivity.
Part 1. What ECUHELP KT200 offline workstation is preferred: 
-Reading and programming engine control units
-Reading and programming transmission control units 
-Supports OBD, Bench, Boot, BDM, and Jtag systems.
-Read and write ECU data in BIN format that allows you modify the data arbitrarily.
Allows you to clone the ECU and use it as an ECU service.
However, the master version is only for personal use and cannot be used to unlock data for the slave version.
ECUHELPSHOP.com provides various operations such as DTC code Removal, EGR & DPF Removal, IMMO OFF, releasing speed limit, mileage correction, Hot start or Cold Start Vmax, and more.
Offers free online updates with no need for an annual subscription.
Supports checksum calculation for improved accuracy.
The full version of the software includes 10 licenses for various types of vehicles, including cars, trucks, tractors, boats, and motorbikes. The tool also has offline support, meaning it can be used even without an internet connection. The licenses include Car OBD, Truck OBD, Tractor OBD, Boat OBD, Motorbike OBD, Full System, BDM / JTAG, TOOL BOOT, Bench Mode, and TCU Gearbox.
ECUHELP KT200 offline workstation has a wide coverage:
KT200 ECU Programmer offline workstation feedback:
Read more on https://www.ecuhelpshop.com/pages/kt200-reviews/
ECUHELP kt200 ECU Programmer Offline Workstation installation
ECUHELP KT200 ECU programmer 2023 Software Installation
Part 2. ECUHELP HTprog Clone Adapter :
1. HTprog Feedback:
HTprog Tested ok list:
Read BMW CAS3 0L15Y0M23S p-flash
Read/write BMW CAS3+ Vin Edit, eeprom &flash
Read/write BMW 080D0WQ eeprom, mileage edit
Jtag function is working fine
M35080 is working
KT200 with HTprog Clone Adapter Read CAS3+ 0L15Y-15 100% OK.
HTprog and ECUHELP KT200 test no issue for EDC17CP49 BMW X4 , 2016 Backup, read P-Flash, D-Flash and read Long ISN.
HTprog and ECUHELP KT200 read/write EDC17CP45 OK.
HTprog and ECUHELP KT200 read/write EDC17C55 OK.
I have HTprog to work together with KT200:
edc17c45 ok
edc17c50 ok
edc17c49 ok
ALL BMW is tested ok
read and write tunning file except the second edc17c45, first was ok, but the second has write the file, no changes to the car, I tried 2 times with 2 difrent files, but the same results. i think is something with the checksum correction made by HT, i will try also with manual checksum.
Have HTprog work with KT200 to clone EDC17C50 OK.
HTprog Feedback:
I try some med17 ecus and all reading.
BMW MSS60L is tested with no issues.
Htprog Read/write sid803a in boot mode Ok
Med17.5.25 and med17.5.5 reading is good.
READ EDC 17C55 OK
Read simos 18.10 OK
edc16 vag c2-mb r/w ok
edc17cp20, cp46 r/w ok
frm2 r/w ok
cas2,3 r/w ok
FRM3 repair OK
read/write edc17c60 OK.
I do not make Tprot off on c60 using this. I simply connect and read/rewrite.
HTprog read edc17c60 ok.
HTprog R/W edc17c10 edc16c34 edc16c3 ok.
My HTprog works just with supplied power cable, if I give 13v from bench power, never reads nothing.
What I tried with HTprog: edc17cp44 audi, Renault EDC17C42, Volkswagen EDC17C46.
User Feedback: Bmw Cas4 Chip 5M48H, Read D Flash, Car start , also lock and unlock from key success, P Flash is okay.
2. HTprog Overview on what work. 
ECUHELP HTprog overview on what htprog can work
Chip Tuning / ECU Cloning
With HTprog you can read and write P-Flash, D-Flash, External Flash and external EEPROM with the option of automatically checksum correction, you will have many methods in most of ECUS :
1. Factory mode (On Bench for most of ECU / TCU): with this option you don' t have to open the ECU cover. Just plug some wires for power and signals and you are ready to go.
2. Tricore Boot Mode for all Tricore ECU: Opening the ECU is mandatory to connect the boot wire on the ECU board.This method is useful when the ECU is not responding
3. BDM (Background debug mode)
4. JTAG for Renesas and Freescale
BDM Read / Write
With HTprog you are able to break the protection of immobilizers like CAS in BMW. EIZ / EIS in Mercedes Benz. BCM in Volkswagen and Porsche.etc.
Built-in Editors
With HTprog you can edit many Flash data like:
Edit CAS3+ VIN, ISN and keys
Edit CAS4, CAS4+ VIN, and ISN
Edit mileage for BMW instrument clusters
Other functions
You can do key reset for many brands like Audi, BMW, MIN, Porsche, Toyota, Fiat, Renault…etc.
Read / Write a wide range of SOP8 EEPROMS.
Works side by side with Autohex to make keys.
Key Features
Master version. One License for all protocols on bench.
Supports one of the largest ECU / TCU list in Cars and Trucks for ECU cloning and Chip Tuning. Supports both old and latest ECU / TCUs from Bosch, Continental, Delphi, Marelli, Denso, Tenic, TRW and Valeo.etc.
Reads all BMW long ISN from BMW DME and DDE including MD1 and MG in F/G series
IMMO BDM Read / Write
With HTprog you are able to break the protection of immobilizers like CAS in BMW, EIZ / EIS in Mercedes Benz.BCM in Volkswagen and Porsche…etc.
Read: HTprog ECU clone support list
Read HTprog on Bench programmer support list
That's all!