Embarking on the ECU cloning journey with ECUHELP HTprog is made simple through a straightforward software installation process. With user-friendly interfaces and clear instructions, you'll have the software up and running in no time. All you need to do is visit the official ECUHELP website, download the HTprog software, follow the prompts, and voila! You're ready to dive into the exciting world of ECU cloning.
Please click to: Download HTprog Software
Activation of ECUHELP HTprog Software via Email:
Before HTprog software is installed, activation is required using a valid email address. This step ensures full access to all the features available for your ECU cloning endeavors. Rest assured, ECUHELP handles your personal information securely, guaranteeing a hassle-free activation process.
1.To activate the HTprog clone adapter for ECUhelp KT200, follow these steps:
1). Connect the HTprog Clone Adapter to KT200 device and then to your computer.
2). Download the required htprog software for the adapter.
3)Install the software on your computer.
4)When the HTprog software launches, it will prompt you to enter your email address.
5)Enter your email address and wait for the activation link to be sent to you.

2.ECUHELP HTprog activation steps
1).Plug HTprog and the dongle into your computer.
2).Download the HTprog software needed for the adapter.
3).Install the software on your computer.
4).When the HTprog software starts, it will prompt you to enter your email address.
6).Enter your email address and wait for the activation link to be sent to you.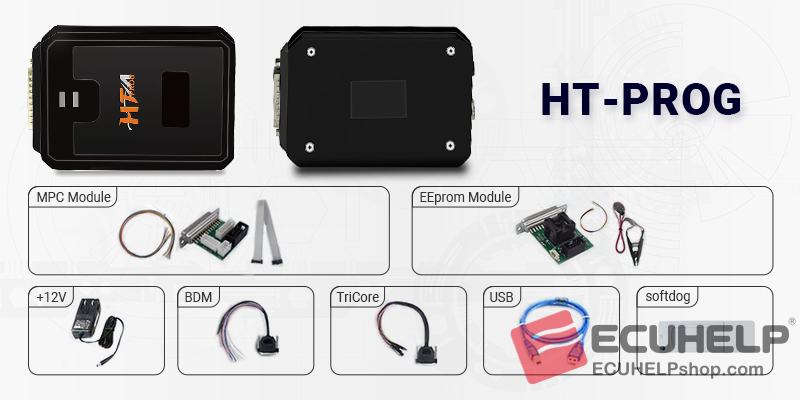 To facilitate a quick start, ECUHELP has provided a detailed YouTube video demonstration. This video offers step-by-step guidance on software installation, email-based activation, and how to leverage the full potential of the ECUHELP HTprog.

That's it! Once your HTprog clone adapter for KT200 is activated, you can begin utilizing its capabilities for programming your vehicles. Here are some of the powerful features you can expect from HTprog:
1)Read and write P-Flash, D-Flash, external flash, and external EEPROM with automatic checksum correction (better manual checksum). This provides flexibility for working with a wide range of ECUs using various methods.
2)Break the protection of immobilizers on popular brands such as BMW, Mercedes Benz, Volkswagen, and Porsche. This includes CAS in BMW, EIZ/EIS in Mercedes Benz, and BCM in Volkswagen and Porsche.
3)Edit Flash data for various functions, including editing CAS3+ VIN, ISN, and keys, editing CAS4/CAS4+ VIN and ISN, and editing mileage for BMW instrument clusters.
4)Reset keys for Audi, BMW, Mini, Porsche, Toyota, Fiat, and Renault, among other brands.
5)You can also read all BMW long ISN from BMW DME and DDE, including MD1 and MG in F/G series.
To watch one video to help you learn what ECUHELP HTprog can work:

Alright, start your ECU cloning journey today with ECUHELP HTprog and KT200 and unlock the potential of programming your vehicles with ease and efficiency.