ECUHELP KT200 read/write EMS3155 CASE TC1782 ecu without any problem.
Read the password via OBD yes.
Read/write ECU in boot mode yes, checksum yes.

KT200 EMS3155 ECU Boot Mode Wiring Diagram:
Applied: SIEMENS EMS3155 [ TC1782 INT.F.] – Renault, Nissan, Mercedes
Kit to use:
– Multifunction cable
– 2 resistances of 1000 Ω
– OBD Cable (to search for password on the car)
Step 1: read the password via OBD
To find the password, connect via OBD to the car.
Use the driver:→ TOOLS BOOT MODE
→ INFINEON TRICORE Tool Password
→ OBD PASSWORD EMS3155
RENAULT – NISSAN
→ Click on "Find Password" and follow the
software messages.
The password can also be found on the desk by
connecting the following pinout.

Now that the password has been found it's possible
to read and write the control unit EMS3155. See the next step.
Step 2. READ AND WRITE ECU EMS3155 with KT200:
Connect with the multifunction cable the following
pinout and the boot shown below.


Use the driver:
→ TOOLS BOOT MODE
→ INFINEON TRICORE Boot
→ SAK TC1782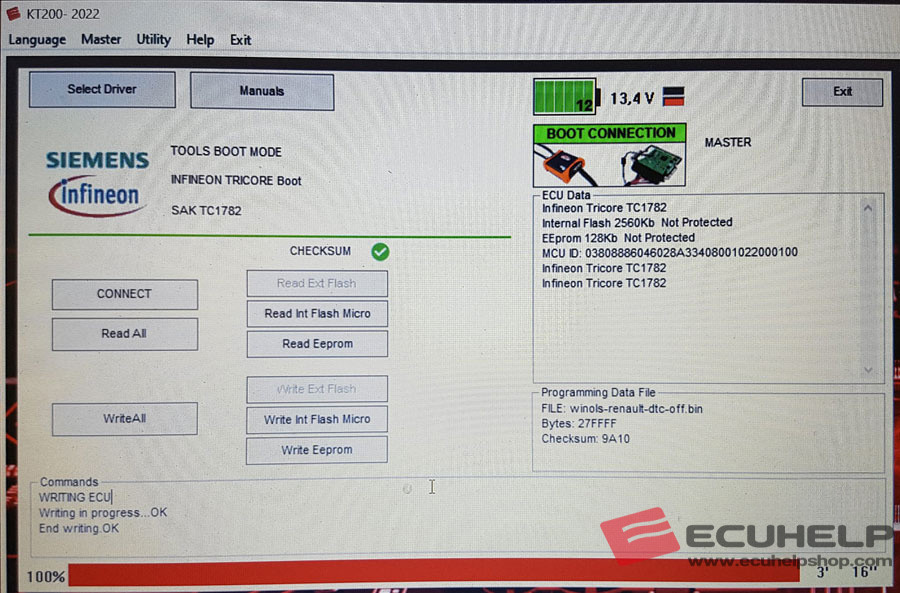 The job is done. Use KT200 to read/write EMS3155 ECU perfectly by following the above procedure.