KT200 ECU Programmer is confirmed to read and write Chevrolet Delco E83 ECU full system CAN perfectly. As well as opel corsa d z12xer, You can use FULL SYSTEM in KT200 and read all data.
Potential Issue: KT200 GM E83 Reading Failure
If you're facing a challenge where your KT200 fails to read the E83 and there's no error message displayed, it might be linked to the 5-digit SEED. KT200 may not recognize and read this SEED.
Solution:
To overcome this issue, IO Prog is recommended as an alternative. IO Prog is a reliable tool for reading and writing GM ECU ACDELCO E83.
For a more comprehensive guide on how to utilize IO Prog for this purpose, you can refer to the available video tutorial on reading and writing GM ECU ACDELCO E83 with IO Prog.
Image 1: Display of the KT200 attempting to read Delco E83, but without success.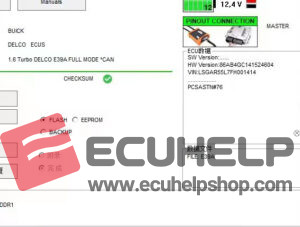 Images 2 – 6: Introduction to IO Prog, showcasing its appearance and the components included in the package.