KT200 ECU Programmer is able to read and write PSA Citroen Peugeot DELPHI DCM7.1A / B [ TC297 ] successfully. 
Steps to follow:
1. Hardware connection 
Refer to the manual or instructions provided to establish the hardware connection. Connect the multifunction cable from the KT200 ECU Programmer to the DELPHI DCM7.1A/B [TC297] ECU, and then connect the ECU box to the KT200 device. Finally, connect the KT200 programmer to the computer.
2.  KT200 read/write DELPHI DCM7.1A / B [ TC297 ]  by following 
With the multifunction cable connect the following pinout and the boot is shown in the picture on the following pages, use the bench box v.2.
Use the driver:
→ TOOLS BOOT MODE
→ INFINEON AURIX Boot
→ BOOT AURIX TC297 PSA DCM7.1A/B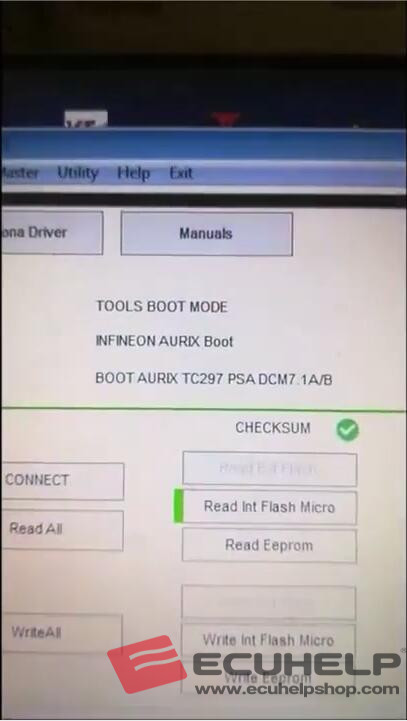 Continued on next page…
One of the boot pins is located under the processor. We recommend the use of a spring-loaded needle to connect it.
Below is the boot mode:
On the next page the view from above:
As an alternative to the boot pin under the processor, it is possible to connect this pad on the underside of the board.
Therefore, this pad is in common with the pin under the micro.
For a visual demonstration, you can watch a video showcasing the DCM 7.1B PSA Read/Write Boot Mode via ECUHELP KT200 Master.
Conclusion:
KT200 ECU Programmer has proven its effectiveness in successfully reading and writing the DELPHI DCM7.1A/B [TC297] ECU in PSA Citroen Peugeot vehicles. By carefully following the hardware connection and step-by-step instructions provided, users can confidently utilize the KT200 tool to perform read/write operations on the mentioned ECU model.