I made post here what is working and what not with KT200 ECU Programmer.
Firstly look at KT200 PCB board with a green encrypted board and improve the performance.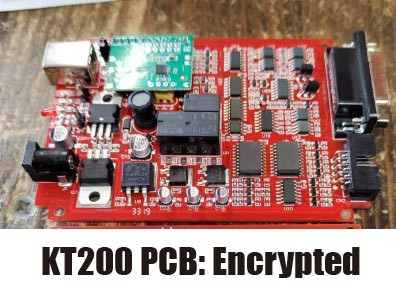 -scania ems s8 open ecu
-scania ems s6 open ecu
-mjd6 obd
-edc17c46 bench and obd
-edc16c39 bench
-edc16c34 bench and obd
-mevd 17.2.2 bench
-dcm 6.2 obd
-me 9.2 bdm
-med 9.1 bench
-simtec 81 all system
not work
-dcm 3.3 obd
-med17.5 obd
-a lot of denso obd
psa edc17c60 bench ok
psa md1cs003 bench ok
opel edc17c59 bench ok
audi siemens ppd1.2 obd ok
psa edc17c10 bench ok
psa sid803a bench ok
renault clio ems3132 bench ok
psa mev17.4 bench ok
what not ok tcu gearbox citroen c4 picasso c300p , nor citroen c2 gearbox tcu. No connection.
Renault md1cs bench ok
BMW EDC17C50 OBD
PSA EDC17C10 OBD
MD1CS100 BENCH
VAG EDC17CP44 OBD
VAG EDC17CP14 OBD
MERCEDES EDC16CP31 OBD
OPEL DELCO E98 OBD
LAND ROVER EDC17CP42 OBD
RENAUT EDC17CP42 OBD
seat panda 4×4 laruso becnh mode ok
Toyota Corolla Verso 2.2dti 2006
read on bench K-line ori 1 min
write 30min
EDC16C32 MB R/W OBD ok
iaw 5sf9 R/W OBD ok
EDC17CP14 OBD and Bench OK
tested dcm 7.1a psa impossible to connect and read..
tcu audi multi 6 speed v30 does not read 7 speed VL300 does not read the claim of the wiring edc 16 u31 ok edc 16u3u ok edc17cp14 ok
Vag pcr 2.1 ……….
………..Locked ecu obd2 work………….
Virtual read/write ok.
Renault sid 307 obd2 work ……..
Pasworld read ok .
Read / write map ok .
sid 307 second option bdm ( only after get passworld )
Bdm full read/write ok.
bosh m1.5 read bench mode ok , 4 minutes for read paswoord
vag edc16u1 obd ok
psa edc15c2 3 connectors bench ok (eep and fls)
psa edc15c2 1 connector bench ok (eep and fls)
Edc16c39 fiat obd – all ok
volvo EDC17CP48 on the bench without problem with KT200
TCU VL300 Audi A4 – cloned
Fiat panda
Magneti Marelli 9GF
Obd – all ok
VAG PCR2.1 R/W/EEP Unlock ..ok
VAG EDC16U1 R/W..ok
BMW EDC17CP02 R/W..ok
BMW EDC17C50 R/W..ok
PSA ME7.4.5 (BOOT) R/W..ok
PSA MEV17.4 R/W..ok
PSA VISTEON DCU102 (BOOT) R/W..ok
RENAULT EMS3132 (BOOT) R/W..ok
Read and write BMW MSV90 in boot
Read and write Toyota Denso 275036- 4520 in jtag BDM mode
Read and write JCB EDC17 CV44 on bench
Read and write VW-EDC16 U31 on bench
VW Touareg 7L 3.0TDI Edc17cp14 Bench Mode: ok
Renault 1.2 Gasoline Siemens Sirius 32 Bench Mode: ok
Audi A5 2.0 Gasoline Bosch MED17.1 VR read via OBD: ok, Bench Mode: ok
Smart ECU EDC16 clone ok
Edc 16u34 read,write bench ok
Edc 16u1 read obd ok,write obd fault, bench ok.
Read and write Nissan MD1CS006
PCR2.1 Unlock Read and Write
Read 9df via obd 3hour
Mercedes ML 280 CDI 2005 EDC16CP31 Bench Read/ Write Stage 1
Isuzu Dmax transtron ecu 4JJ1 read & write ok via OBD, No need use easy hook again for this type ecu.
Md1cs018 r/w success
VW MAN 460 ECU MD1CE100 2022 YEAR R/CKS/W NO PROBLEM
Psa edc16c34 obd R/w ok
Edc16cp31 jeep bench all ok
Mercedes e220 crd3.7a obd r/w
Mazda 6 2.2 2013 Denso obd r/w
Jaguar Sid 201 OBD R/W ok
Peugeot DCM 6.2 OBD R/W ok
EDC16c35 BMW E61 530d Bench write /all good
VW EDC17c64 R/W in bench ok
Write by obd also ok
Seat EDC17u01 R/W bench ok
Audi EDC17c46 R/W bench ok
Audi Pcr2.1 R/W in bench ok *unlocked)
PSA Sid208 password on bench okay R/W in boot okay
SID206 BDM read (18 minutes)
BMW EDC16 CP35 bench read/write
Citroen Jumper BlueHdi DCM6.2C read/write OBD
Mercedes ML CDI ED16CP31 full read/Write Bench
KIA SIM2K-341 TCU TC1738 READ OK
Ford focus 1.6tdci sid 807 can read/write ok
Bmw Edc17cp09 read/write OK
Dcm 6.2A Peugeot 2.0 HDI. OBD reading / writing OK very few tool do this one
EDC 16C36 1.9 DCI Renault bench full reading / writing external flash OK
Simos 3 VW 1.2 petrol OBD reading / writing OK
Sid 201 Jaguar 2.7 OBD read / write OK
Renault EDC 16C36 Bench full reading writing external flash success OK no problem. I love this tool so far no problem
Edc17c42 mb citan. Renault and nissan same ecu. Dpf off ok!
LAND ROVER MED17.9 ODB READ AND WRITE
Crd3.7A om651 2016 mb ad blue of read and write bench succesfully
TCU FIAT TORO 9HP28 CLONING OK WITH KT200
Volvo edc16c34 full mode "obd" read write checksun ok
Volvo me9 Bench works. Just read and write as ford. Volvo Me7 on bench pinout canbus OK.
EDC17C64 OBD OK VIRTUAL READ + WRITE OBD
Mecrcedes W205 Med17.7.3.1 bench no problem
Edc17c64 dpf egr off I m starting to love this tool
Amarok EDC17CP20 READ AND write OK, internet must be strong.
Clone EDC16U34 Vw ok
Bosch MS6.2 UD GE13TC Driver : Truck OBD – Renault MS6.2
Dacia Duster with MD1CS006..r/w 100%
Cloning Gearbox Smart G2T60. Top
Test edc15c2 work very good
Sirius 32 perfect
EMS 3132 perfect
Edc16c34 perfect
Edc16u34 perfect
Edc17c64 perfect
Md1cs003 perfect
EDC17CP14 perfect (manual chks)
EDC16C34 Peugeot R/W bench mode Ok, checksum ok
Cloning Iveco daily edc16c39 power plant, it took long to write eeprom, But the car start up perfectly, Everything ok
BMW E60 Active Dynamic Drive Steering MODULE READ/ WRITE ok, BMW SZL Unit, Driver: BDM MPC55X
Renault Edc16c36 read/write ok
edc17c10 read and write without problem
Isuzu transtron M4.3 Ecu read ok, 1 Hour read time, NPS81 4X4, Driver: Truck OBD – isuzu – P75 transtron CAN
Bmw 330d 2009 edc17cp09 Bench read and write ok
read and write Chevrolet ECU E83 DELCO
BEI BEN WP10 Engine ECU read out, ECU not removed, just do it at truck, Driver : Bench mode – EDC7UC31
VW MAN 460 ECU MD1CE100 2022 YEAR R/CKS/W NO PROBLEM
Psa edc16c34 obd R/w ok
Edc16cp31 jeep bench all ok
Md1cs018 r/w success
edc16c32 mb r/w bench mode ok
Edc16c34 bench ok r/w/chk
Edc16c39 bench ok r/w/chk
Medc17.9 land rover bench ok r/w/chk
Marelli 6jf full mode ok r/w
Bosch me 7.4.4 full mode ok r/w
edc16c39 bench mode r/w ok
Ford transit SID211 Full flash read/Write via OBD, only full flash possible OBD, E+F needs bdm
KT200 Ford PSA SID211 SID808 SID807EVO via OBD
Mercedes CrD3 E1 read e write bench perfect
Ford Transit 2.0 2019 Sid211 Obd read and write ok
Citroen Jumpy DCM3.5 OBD read- write ok!
EDC16C9 Opel R/W OK bench&bdm
EDC16C39 Opel R/W OK bench&bdm
EDC16CP35 BMW R/W OK bench&bdm
MJD 6O2 Opel R/W OK bench
EDC17C06 BMW R/W OK bench
EDC17U01 VAG R/W OK bench
MEV17.4 Peugeot R/W OK bench
EDC17C46 VAG R/W OK bench
Edc17c11 range rover – bench read write OK
John Deere L23 ecu Read write and cheksum ok, nice tool
PCR 2.1 read flach eeprom bench and unloocked perfect
Mitsubishi Triton L200 change flash file Read /write ok Driver: full system – mitsubishi HW2-SH7058
Nissan Navara 2.5 Denso cloning without opening work like charm
Scania R440 EMS s6 Read and write ok
Renault 420 dCi ecu bosch MS6.3 read /write OK, Renault Premium truck 420 dCi common rail engine, Driver : Truck OBD – Renault MS6.3
Mercedes-Benz A200 CDI Delphi CRD3.4 Bench read/write perfect
Peugeot 307 Sid 801A cloning without opening flash and eeprom work fine
Opel Corsa C Y17DT egr off read write via OBD
R/w mercedes edc16cp36 w221
Reading and Writing EDC16U1 VW awesome
Audi A5 EDC17CP20 DPF EGR FLAPS TVA off VR read by OBD good tool
VW T5 1.9TDI EDC16U31 good read and write
SCANIA S450 EMD1-VR read , OBD write
SCANIA R420 S6 read/write obd
MAN TGX EDC7C32 read/write obd .
CRD3plus W205 bench mode OK
EDC16C31 Volvo R&W Flash and Eeprom OK.
Mercedes med 17.7.2 Read full Ok, write flash Ok
psa 1.5hdi MD1CS003 R/w
Renault Premium R/W Bosch MS6.3 on OBD plug no problem
Leon 1.9 pd edc16u34 obd and bench with checksum correction working 100%
EDC7 C32 on MAN Truck R/W without problem
9DF read 2.30 Hour write 10 min work
Mercedes truck 2017 ACM 2.1 bench Can H and Can L read/write ok
MCM 2.1 K-Line bench read/write/checksum ok
Fiat 2.3 JTD MJ9DF 2016 and 2020 bench read 1 hour ok/write obd 8min ok/checksum also ok.
Renault 2016 SID310 password obd read ok/boot read/write ok/checksum ok
Alfa Romeo Giulietta with the 2.0cdti opel/vauxhall engine edc16c39 read and write and chks 100% all good file was modified for egr dpf and a stage 2 custom tune
Bench Reading and Writing… edc16c39 everything ok
VW Golf 7 EDC17C74 OBD Virtual read/write/checksum OK
Ms6.3 no issue, Read ok, write ok at bench
HYUNDAI Bosch ME 17.9.21 Read and Write and stage 1 applied with success. New tool and first use. Good product
Isuzu Edc17cv41 R/w ok chks, Need stable amperage and voltage as I tried at 13 volts would not identify also gpt pins are two versions if one fails try alternative pinout provided.
Vw Crafter 2,5 TDI Edc17cp20 OBD does not work. R/W Bench Work! Checksum correct with Kt200
2020 BMW 5 series G30 Diesel MD1CP002 Read/Write/Checksum on bench – all ok. Also very fast.
Opel ACDelco E87,R/W flash and eeprom all ok,on the bench wit FULL SYSTEM *CAN driver
EDC17c50 BMW116 R/W ok
Opel – Delco E83 Full system R/W chk OK !
Fiat Ducato 2017,Edc17cp52,R/W and chk. all ok with BenchDriver. Kt200 make same cheksum as "LSuite" program(tested)
Mercedes VDO MSM 1.x Full system R/W chk OK !
BMW 3 Series E46 2002 M47 EDC16C1(DDE 5) Bench read via pinout 100% successful and fast.
Ford kuga 2.0tdci 136km sid206 Read and write obd okey Checksum not checked, counted winols
EDC16CP31 R/W in bench ok and obd works too
Seat EXEO EDC17CP14 R/W OBD OK
citroen jumpy dcm6.2a read true obd remove adblue and dpf write all ok no problem
BRP Outlander M3C read and write ok
Ford Transit 2.2 TDCI 2012 SID208 working no problem over OBD
Citroen Jumper 2.2 HDI year 2010 Visteon DCU-102 working over boot mode
VW Touareg V6 3.0 diésel EDC17CP24 !! read and write ok !!
Edc17c60 Reading ok and cks manual and writing ok.
Nissan Micra k12 ecu Renesas MEC37-300
Opel Astra 1.3mjtd Edc17c19 read/write ok
EDC16U34 Audi Set counter program. It works.
EDC17CV54 read/write totals counted winols
Vw Scirocco 2.0tdi EDC17C46 Read VR OBD … Mod file … Write OBD
BMW F11 550D EDC17CP45 Bench R/W ok
EDC16C34 PSA. Flash writing reading by OBD (possibility on KT200 KLINE or CAN).
Fiat Ducato 2015 2.3JTD MJ8F3 Virtual Read / Checkum / Write / Injector codes – All ok and fast.
Jeep Grand Cherokee 2018 EDC17C79 BENCH MODE READ WRITE CHECKSUM OK
EDC16U34 CLONE ECU OK BENCH MODE
PSA Mev 17.4 psa R&W ok mode bench
Insignia EDC17C19 Bench Write with Checksum
Vag edc16u31 R&W by obd ok
BMW mevd17.2.5 0261s07783 read write ok !!
VW Golf 5 Bench MED9.5.10 R/W CHK OK !
Fiat Bravo 1.6 JTD EDC16C39 bench mode R/W, chcks Ok
Mercedes MED17.7.2 BENCH ..GOOD WORKING WITH KT200
Immo off edc16c34 in bench mode
W219 EDC16CP34 BENCH MODE READ WRITE OK
W211 EDC16CP34 OBD READ WRITE OK
2020 MITSUBISHI L200 DENSO READ WİRİTE OK
Audi A6 2.5TDI calculateur EDC15VM+ read/write 29F400 ok
Citroen Berlingo 1.6 100Hp edc17c60 Bench r/w ok
Bmw Edc17cp50, edc17cp45, edc17cp41, edc17cp09 bench work fine.
Vag VW crafter with DCM6.2v no vr on server.
Psa dcm6.2c obd read, write checks OK.
Edc15v read write bench fine, flash and epp.
Dacia EMS3132 bench read, write flash and epp OK.
Vag Edc17c64 golf vr read and write fine.
Mercedes cr2.35 bench read write flash and epp OK.
Toyota RAV4 virtual read + write no problem.
Chevrolet Captiva Edc16c39 R/W obd ok Checksum ok
Edc 16c3 psa immo off ok R&W bench mode
Siemens ppd ,read/write ok, Checksum with kt200
Citroen Jumper 2.2HDI Visteon Dcu102 ecu Boot mod.R/W OK.
Opel Delco mt35 read write with multifunctional cable on table by can
Ford TC1767 MED17.0.1 R/W ok CHKS only LSuite
Audi A6 2.5TDI calculateur EDC15VM+ read/write 29F400 ok
Reading/writing edc17c41 egr off in edc17c50 heading
PSA TC1767 MEV17.4.2 R/W ok CHKS ok
Citroen C4 CACTUS 17C60 READ, MODFILE.WRITE. NICE AND EASY
SID305 OBD READ. MOD FILE. WRITE
Sid 206 obd R/W OK Chk ok to MOD. File EGR off
BMW E8 730D In OBD pinout in the desk. R/W ok
ECU: MED17.5.5 Mode: Boot Mode R/W: OK Cks: Manual
R/W golf 5 MED9.5.10 with success
EDC17C46 R/W OBD CKS (Corrected with win-ols).
EDC 17C42 fast read/write over OBD in 5-10 minutes
Delphi dcm 3.7 reading and writing ok
Denso Avensis 2.2 D4D with nec on bench, read vr, write on bench ~ 30min.
reading writing edc17cp04 perfect
VW Golf VIIv1.6 TDI Delphi dcm 6.2v read ,write with checksum kt200
Ac delco E83 Opel Read and write full system
MERCEDES MED 17.7.2 CLONE ECU OK
Peugeot 3008 2.0 BlueHDI 2020.
Dcm6.2a R/W CKS Winols manual. EGR OFF ADBLUE OFF
EDC17CV42 MAN TGX 18.440 Bench mode R&W OK.
Fiat Doblo mm.IAW6f3d,read/write/checksum all 100% OK.
I'm starting to like these tool more and more every day
Edc16cp31 bench mode ok
Edc16c32 A-klass bench mode ok
Med17.7.2 E-class ngt w212 relator clone in tricore boot mode.
Full backup edc16u34 audì a3 in bench mode
OBd read/write mercedes e klass crd 3.10
Ssangyoung Ecu delphi crd read/write obd.
Bench mode full system marelli abarth clone ecu iate 9gf
VW DCM6.2 VR read ok, write ok
Psa: Edc17c60 Bench
Psa: Valeo v46.11 flash cloned by obd+immo off eeprom
PSA: Edc17c10 fap egr off Bench
PSA: Mev17.4.4 Bench
Psa:Sid801,Sid802 bench immo off
Vw: Edc17c46 Edc16u34 Edc16u1 Bench
Dcm 6.2v ok
wow marelli 59f bench cloned
Ford DCM3.5 OBD (outside the car) R/W ok
Mercedes TC1793 EDC17C66 R/W is ok .
DCM 7.1 Peugeot R/W checksum Ok.
EDC17C49 FIAT R/W Checksum Ok.
Skoda Octavia VRS good r/w without problems egr Off davinci checksum made bu lsuite
Dcu17pc42 fiat talento Read e write Perfect
Read & write obd okey edc15p audi
Audi A4 2.0TFSI MED9.1 R/W mode bench with success
Edc17c46 r/w int flash micro all in 4 min
Golf6 pcr2.1 R/W mode bench Succeed, 15 volte obligatory
EDC16C39_5 works perfect trought OBD. Check sum calculation also.
Edc17c69 fca bench read and write ok. Checksum with k200 ok.
Reading and recording VW WORK 26-260E MWM Engine EDC7C1 module
Subaru Denso SH7058 R/W OBD ok
Fiat Me7.3H4 bench read write flash and epp ok
PSA EDC17C10 bench read write Ok
Bench MED9.5.10 read OK
Pcr 2.1 unlocked by bench and egr off easy
Opel Astra 1.3cdti EDC17C19 Bench.Read.Modfile.Write OK
Peugeot Boxer 2.0Blue hdi Delphi dcm 6.2C R/W ok Mod file adblue off , Chk for Lsuite
MEV17.4.2 citroen C3, work ok.
Dcm3.7ap work fine in OBD
BMW F35 8HP45 R/W OK
Audi DL501 0B5 R/W OK
Chevlert 6T45 R/W OK
W213 md1cp001 r/w ck ok
Read write medc17.9 Range Rover evoque en bench impeccable Calculate the cheksum manually
Iveco edc16c39 bench mode… Reading… writing… cks.. everything is ok
VGS3 722.9 CODING R/W OK
Read write edc16c35 bmw 320d en bench stage1 et egr off
Read and record OK PTM MAN VW 24-280!!!
Read delco E98 full system
Man EDC7C32 Cloning. Also Ok
Ford SID206 R/W/CHKS – ok
Bmw 530GT F07 Edc17cp09 R/W Bench mod OK, Chk auto, Mod file : stage1 ,dpf off ,egr off ,dtc off
VW EDC17C46 TC1767 R/W/CHKS – ok !
Captiva Edc16c39 r/w obd Checksum ok
Citroen Relay 2.0hdi dcm6.2c via obd read, write,checksum manual . All good and fast
Mercedes CRD3P.B0 TC1793 R/W/CHKS – Ok!
Man Tgs E5 440. EDC7C32 OBD R&W OK. CHKS WINOLS.
Vw Phaeton EDC17CP04 Bench full read Ok.
Citroen c4 DCM6.2A OBD Read-Write Checksum-KT200
Md1cs004 vw golf8 read and write ok
Audi A4 B8 3.0 176kw 2008 EDC17CP04 working no problem and easy over BENCH (1min writing)
Read write by obd edc16c34 207 hdi
Mercedes Actros 1840 euro 6 Read write ACM + MCM All ok with 14v+
Bench cloning EDC16C3 Citroen C3. Very fast reading and writing.
Peugeot 207 CC, 1,6l HDI, 2007, EDC16C34 OBD read/write OK
R/W EDC16C34 PSA group.
Bench cloning EDC16C39 Opel Antara. Works like a charm.
R/W SID803A PSA GROUP
EDC17c10 read and write ok. Cks manually
Cloning TCU VL300 Audi A4 done.
Ford c-max sid206 Obd r/w Checksum
EDC7C32 KT200 make CHS
EDC17C50 good read and write checksum manual with winols
Subaru Impreza STI 2006, read, write OK ! (DENSO Ecu, K-Line)
Porsche cayenne med17.1.6 read/write/checksum all good
Read and record OK PTM MAN VW 24-280!!!
Edc17cp14 Hyundai work perfect first step you need to get password from OBD second step in boot mode before read or write you need to select password file
I wrote edc17c60 manually doing cheksum and tprot off manually
MB edc17cp57 done
Denso76F00XX Can Rav4 2,2 D4D 2007 , writing mod file , cks by KT200 OK
Peugeot308_1_6hdiedc17c60 BENCH R/W okay chk for kt200, Mod file adblue off
2011 Seat Leon 1.6 PCR 2.1 obd read (VR) and write perfect
Mercedes B class edc16c32 bench read write ok
Mercedes w212 CRD3.7a bench mode , read , write with kt checksum all ok
2014 1.3 Corsa Edc17c59 Read and write ok tool did cks ok
Lexus is220 Denso76f00xx VR/W ok OBD Chk automatik for kt200
DAF xf euro 6 DELPHI ETC3 good read/write checksum by winols manual
Read write edc17c10 Peugeot stage1 dpf egr off cheksum manuellement
Read/write edc17c60 opel croslland Adblue off
Opel Insignia 2.0 CDTI biturbo Edc17cp47 R/W/CHS ok
MARELLI IAW 6JF PANDA1.3 MJD 70CV. R/W
Peugeot Boxer 2.0 BlueHDI DCM6_2c OBD R/W no problem
2008 1.9 Vectra edc16c39 read/write ok did manual checksum
Opel bosch me 7.6.2 Full System clone ok
MB Delphi CRD3.xx obd r/w Perfect
TOYOTA EDC16C10 read/write Bench Mod
Read Opel Delco MT35 OBD Pinout,only flash. Eprom not reading.
Citroen md1cs003 r/w chk ok kt200 perfect
Fiat Marelli 8F3 bench full backup
Fiat Panda Marelli magnets 9GFH read/write ok
FIAT PUNTO MARELLI 59F R/W FULL SYSTEME
AUDI Q5 EDC17CP20 R/W BENCH MODE EGR/FLAPS/DPF OFF
mercedes ml350 edc17cp46 r/w ok
VW Polo 1.4 TDI DCM6.2V VR / Write ok
VW BOSCH EDC17C74 READ/WRITE BENCH MOD EGR/DPF OFF
WV Bosch Med17.5.25 R/W Bench Mode
edc17cp54 cks by kt200 a6 c7 3.0 tdi egr off r/w bench
Sid 208 PSA Boxer Egr off read write very good first step you need to read password then you can read and write
BMW e92 330d 170kw 2006 EDC16CP35 working no problem and easy over BENCH (2min writing)
Kia EDC17C08 TC1766 Bench R/W/CHKS – ok
Renault Traffic EDC17C42 Read, write OK
Edc17c42 RenAult Bench mode R e W Checksum, All okk
Golf MK6 2.0 170 HP 01.10 Edc17cp14 / BENCH mode / Tool power supply / Write – Read Ok / CHK Lsuite
Boot reading of an old dcm1.2 Renault clio3. read only flash
Opel Astra Delco E4 LVP11 OBD – Read/Write – OK
Test on edc16c34 with new bdm stand with bosch adapter and galletto v54 cable
Read/write BENCH MOD MERCEDES EDC16CP31 MP563/564
Edc17CP42 PSA 2.2L HDI. 204 cv. Bench
Nissan EMS3155 CASE TC1782 Boot mode OBD read password – ok, Boot R/W/CHKS – ok
2011 Chevy Cruze 4T60 TCU, Bench Read Write Good
TOYOTA EDC16C10 read/write Bench Mod
Lancia and mjd 9DF HW00 R/w ok
VW Polo 1.4 TDI DCM6.2V VR / Write ok,automatically VR when you read
Marelli mjd8f2 ecu bench R/W in fullbackup all ok
seat ibiza edc15p+ r/w ok egr off
Dacia_dokker 2020year MD1CS006 for KT200 bench, Mod file adblue off, chk_for_kt200
CF MOTO ME17 TC1728 R/W Password ok
Lancia 1.2 16v Bosch ME7.3H4 flasch + e2p this tool is a fairy tale
Insignia edc17c59 Dpf off Read/write Tool did checks perfect
Audi EDC17C64 TC1797 R/W/ CHKS all right
Ford transit 2011 2.4 Visteon ecu Egr off Read/write obd Tool did checksum perfect
Fiat bravo 1.6 120cv Bosch edc16c39 in bench R/W
Skoda EDC17C64 R/W checksum ok.
Throw 95HP Marelli MJD 9DF HW000 R/W
Mercedes sprinter edc15c06 read/write Succeeded with manual checksum
Mercedes CRD3P.D1 TC1793 R/W/CHKS – ok
BMW edc17c50 r/w bench work Perfect.
Edc17c41 BMW f10 bench Read 5min Ok Write stag 1 , 2,23min Ok chs winols
KIA PICANTO BOSCH ECU ME17.9.11 R/W BENCH MOD IMMO OFF
Hyundai i20 dcm 3.7 ap. Defap ok. Obd read and write checksum ok!
Nissan qashqai 1.5 dci Bosch md1cs006 R/W perfect
BMW mini Cooper r61 Bosch edc17c50 R/W let's say kt200 perfect
Fiat 500 x 1.6 Bosch edc17c69 in banch R/W
Ems3134 r/w ok on tool boot.
Fiat marvelling 5sf3.m2hw300 Read Write eprom- flash ok
Fiat marvelling MJD9.P2 read-writing eprom flash o.k
Porsche Cayenne 3.0d 2012 EDC17CP44 R/W/CHKS OK
VW Golf V 1.4 TSI 2009 MED17.5.1 R/W/CHKS. OK
Smart EDC16C32 read write EGR DPF off all OK
Fiat 5NF.T1 Read Write eprom flash o.k
Opel -Fiat MJD6O3.S1 Read Write eprom flash o.k
Audi A3 1.9 Edc16u34 obd Read/write ok tool did checks
Suzuki ME17.9.6 Read Write all o.k
Ford Mondeo tdci2.0-140hp sid206 R/Mod file/W – OBD cks with Kt200
Smart fortwo. EDC16 C32 W/R OK
EDC15C6 W203 READ FULL SYSTEM OKAY
Fiat ducato immo off Edc15C7 immo off read write in full mode witout opening success you need to use 3 resistor 120 Om
Vw caddy edc17c46 Egr off read write in bench mode success
VW tiguan Edc17cp 14 Dpf Egr Off+ stage 1 success read write in bench mode
Edc15 c2 psa Read and Write ok (flash & eproom /immo off)
Edc16c34 volvo reading writing bench perfect mode
Sim2k-140..immo off…read and write ok….kt200
Renault Master sid310 , boot mode, read password, read file, write mode file with kt checksum correction , all perfect
Edc16c9 opel astra h 1.7 2004 Read full backup unopened ecu a great machine
Ford cmax 1.6 90hp Bosch edc16c34 fomoco full bench R/W EGR off cks ok top
VW BOSCH EDC16U34 DPF/EGR OFF READ/WRITE BENCH MODE
Vw Caddy Pcr 2.1 Dpf Egr off bench read very easy
Opel Astra H 1.9 Edc16c9 Bench read all/write all Write 1 by 1 checksum by kt200
Golf 6 EDC17CP14 READ/WRITE OK Bench mode, CKS With KT200
Citroen c5 edc16c34 r/w bench check sum ok
Golf 7 Med17.5.21 R/W mode bench with success(Stage 1)
Superb 2.0 Edc17c46 obd read write dtc off chk manual lsuite OK.
Skoda Simos 3PD Full system R / W / Cks – Ok
Audi SQ5 3.0BiTDI (Stage1 – EGR Off) EDC17CP44 R/M/W, CKS KT200
Fuso canter 4M50T3 R/W ok
C250 w205 dpf , swirl off, delphi crd3 bench R/W ok checksum with winols.
Mercedes w212 edc17cp10 bench mode read/write ok cks with kt200
Fiat 500 0.9 Twinair 85Hp Marelli 8GSF .H9 full backup R/w
Read and write at bench Marelli 59F – hw 603
BMW EDC16C35 Bench MPC561/2 R/W/Cks – ok
Mercedes EDC16C2 Bench MPC555/6 R/W/Cks – ok
Ford focus Edc16c34 Bench read/write Checksum by tool
Man EDC17CV42 TC1797 R/W/Cks – Ok (my first ever truck
Edc 16u34 bench mode offline reading writing immo off perfect
AUDI Q5 EDC17C46 ADBBLUE_EGR OFF BENCH MODE
Seat leon Fr 2.0tdi Edc16u34 Stage 2 Obd read Write success
Mercedes c220 w 203 edc16c2 r/w ok
CRD3PLUS.A0 Read/write Bench mode Cks with KT200
Opel zafira 2.0Dti PSG16 Egr off Vr read write 15mnt i love this tool
Renault scenic edc16c3 obd and bank OK R/W OK checksum by KT200
IVECO STRALIS EURO 6 EDC17CV41 R/W Ok
Peugeot 307 SW, clone damaged ecu EDC16C34.
Me17.9.21 reading ecu files using bench mode. Success.
Opel Insignia 1.8 Pb 2013 Ecu Delco E83 R/W/chsum Ok full system
Renault Trafic EDC15C13 Read/Write CKS with LSuite
BMW E87 120D 177HP – 2009 EDC17CP02 (Did full backup in Bench) OBD – Read/Write/Checksum OK
read all ecu HCU1 + HCU2 HIBRYD PSA TC1797
Edc 17c64 a5 2.0tdi bench read flesh 4:53 , eeprom 0:30 ok
Mercedes EDC17CP57 TC1793 R/W/Cks – ok
Mercedes TCU Gear 7G-Tronic – coding R/W ok !!!
Fiat Ducato MJD8F3 Read/write OK CKS with KT200
Renault scenic siemens sirius 32 full system , read & write okey 3min
Simos 3PE Full system R / W / Chs – Ok
Seat Leon Linea R Edc17c74 Dpf Egr stage 2 success read write in bench mode
Golf 6 EDC17CP14 READ/WRITE OK Bench mode, CKS With KT200
Citroen c5 edc16c34 r/w bench check sum ok
Golf 7 Med17.5.21 R/W mode bench with success
Read and write successfully ecu SDI 3 Porsche by OBD2
MB MD1CP001 Read write ok Checksum by kt200 ok Adblue off ok
MSV70 was killed by Kess and low battery. But KT200 haven't problem to repair this ecu.
Audi a4 tfsi med 17.5 bench R/W bench no Problem
Tcu dl501 clone. All ok
Clone edc16c32 mercdes B class
Edc16cp Audi v6 Bdm mode R/W ok
Edc16u34 Passat b6 2.0 TDI ECU demaged by water Not possible to read bdm, Kt200 readed on bench without problems
Daf xf 105 MOD OBD -R/W checksum manually
EDC17C69 – FCA read and write great on bench mode.
Citroen C4 Cactus 1.6 hdi EDC17C60 Adblue off R/W checksum by tool
Renault trafic edc16c36 R/W checksum by the machine all OK
Alfa Giulietta Bosch edc16c39 in bench R/W ok
Sid204 Land Rover read epr/fls full system, write file mode (dpf egr stg1) fls full system, cks correct by kt200
Peugeot 207 1.6 hdi edc16c34 Immo Off read and write full backup in bench mode success
Clone edc16c2 Mercedes perfect bench mode
Citroën C5 2.2 Hdi 136Hp Edc15C2 (1plug) Dpf Egr off success in full mode connected with 3 resistor of 120 Ohm work very good
Iveco Daily edc17cp52 Egr off read and write in bench mode very very fast.
Renault clio Sirus 32 read and write in full mode success
Peugeot Partner 2015 Edc17c60 Scr Dpf Egr off success in bench mode work very good
Citroën C3 1.4hdi Sid804 Egr off read and write in full mode success
EDC16U1 read- write ok
Read flash/eeprom to clone M7.9.5 in full system on Citroën very good
Opel Insignia Bosch Edc17c59 Acdelco dpf egr off use only a manual solution and check cks before write.Very good for this one.
Fiat 500 x 9df 1.3 mjet 95 cv FAP EGR sonde R/w perfect
3008 DCM6.2A Read/Write OBD CKS with KT200
Nissan Navara NP300 ecu read out SH7059 & EEPROM OK 23710-4KV0C 275722-6350 MB275700-8090 Denso 5M
Renault clio 4 1.2 16v Valeo V42 cold start fix read jtag (Renesas 70580) write Obd success
Mercedes S320 CDI EDC15C6 With KT200 R/W [OK]
Opel Meriva B 2010 – 1.3CDTi 95hp Bosch ECD17C19 BENCH – Read/Write/CS – OK
Chevrolet cruze 1.7 dti Delco E87 Solutions FAP Dpf EGR Dtcs Read MOD FILE write . Cks with kt200 BootMode
Seat Leon fr Edc17c46 Egr off (Delphi) Checksum by Lsuite VR obd read perfect Write perfect
Ford fiesta 1.0 eco boost MED.17.0.1 Read/write ok
Peugeot 3008 2019 R/W bench kt200 Edc 17c60 Chk automatic Mod file adblue off
Peugeot 3008 blue hdi R/w OBD kt200 Chk automatic Delphi dcm 6.2A Mod file adblue off
VOLVO LUCAS ECM Read out very good
Skoda superb edc17c46- bench R/W checksum manual EGR, DPF, ADBLUE, OFF
Msd81.2 full r/w. Clone and nox off
Mercedes CLA C200 2016 ECU – Delphi CRD3.E1 BENCH – R/W/CS OK
VW T5 2.5TDI EDC16U31 R/W via OBD Check sum KT200 EGR OFF
VW Tiguan 2.0 2013 EDC17C46 R/W OK VERY FAST, Checksum OK
MB E W211 EDC16CP31 R/W VIA OBD Checksum manual
BMW E46 320D 2.0 136hp 2000 ECU – Bosch EDC15M OBD – R/W OK (9min read/ 9min write)(Manual checksum)
Chevrolet capriva 2.0 140 hp Edc16c39 R/W perfect
Final saga of edc17c49 OBD Read, OBD Write, Wrote with manual checksum
NIssan 23710-JS61A SH7058 & EEPROM OUT EASY OBD WRITE not problem
NEC 76F0085 easy read by Jtag Hino dutro Toyota Dyna N04C Write DPF off done easy also. Both MIC & EEprom good
Fiat bravo 1.4 16v Bosch me7.3h4 flasch EEPROM R/W
BMW E61 330i MSV70 read on obd is perfect…
Write on obd Renault Master EDC16C36 – perfect…
Read and write on obd vw Caddy 2020 EDC17C64 work perfect.
Bmw F01 read bench edc17cp09 very goog everything
Edc17cp10 Mb R350 with AdBlue R/W bench OK
EDC17C57 Hundai I40 2016 R/W/checksum in eeprom ok. Mod: mileage modyfication
Peugeot 308 1.5hdi MD1CS003 R/W bench Mod file adblue off Chk automatic
Ford MPS6 6dct450 getrag works 100%,No chk. Full backup to second tcu
BMW MSD81.2 OBD R/W/Cks – Ok
PEUGEOT 3008 MD1CS003 read/write bench mode,Checksum by tool
BMW 530D E60 , EDC16C31 R/W OBD , CKS KT ok
EDC17CV44 CAMC truck Read ok Bench mode
Dcm3.5. FORD S-MAX. R/W mod
PEUGEOT 607 2.2 Hdi 136hp EDC15C2 DPF EGR OFF IN FULL MODE read write success
Peugeot 508 2016 DCM 6.2A R/W OBD OK
BMW E46 320D 150HP 2003 ECU – Bosch EDC16C1 BENCH – R/W/CS ok
Seat Ibiza 1.2i 2002 Siemens SIMOS 3PE FULL – Read/Write OK (Just write EEprom)
Pcr2.1. Golf 6 1.6l tdi. Unlocked by obd top
VW UP 1.0i 2018 Bosch ME17.5.24 BENCH – Read/Write/CS – OK
Mercedes CLA200 2016 Delphi CRD3.E1 – BOOT – Write OK
Citroen C3 cil. 1.1 Bosch M7.4.4 flash read plus EEPROM R/W
For more KT200 feedback, check here https://www.ecuhelpshop.com/pages/kt200-reviews/
KT200 is tested working 80% of dfox, check KT200 ECU List to see if it meets your needs.